I will be making these tomorrow... Sisterbrenda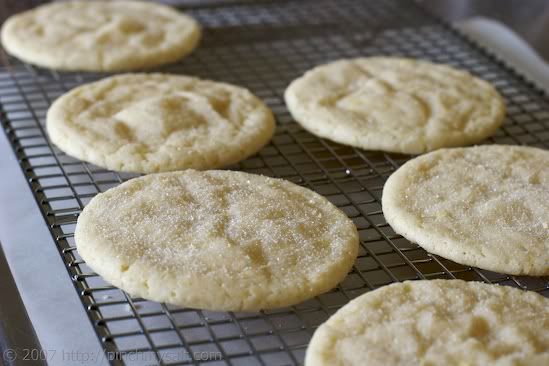 Okay, there are many sugar cookie recipes out there and this is a pretty confident title for a recipe (I don't make up the recipe names...well, most of the time I don't
). This is Lovina's go-to sugar cookie recipe and it IS good. I haven't tasted all the sugar cookie recipes in the world, so I can't say definitively that it is the best (wow, that would be a rough job, tasting all the sugar cookies), but I doubt you'll be disappointed. Give them a try!
WORLD'S BEST SUGAR COOKIES
1 cup confectioners' sugar
1 cup granulated sugar
1 cup butter or margarine, softened
1 cup vegetable oil
2 teaspoons vanilla extract
2 eggs
5 cups all-purpose flour
1 teaspoon salt
1 teaspoon baking soda
1 teaspoon cream of tartar
For the frosting:
1/3 cup shortening
1 teaspoon vanilla extract
4 cups confectioners' sugar, plus more if needed
1/2 cup milk
food coloring (optional)
sprinkles (optional)
Preheat the oven to 350 F.
In a large bowl, cream together the confectioners' sugar, granulated sugar, butter (or margarine), oil and vanilla until light and fluffy. Add the eggs, and beat until evenly incorporated. In another large bowl, sift together the flour, salt, baking soda and cream of tartar. Gradually add the dry ingredients to the wet mixture, stirring until well combined.
Form the cookie dough into walnut-size balls, and place two inches apart on ungreased baking sheets. Flatten the balls using the bottom of a glass dipped in sugar. Bake for 10 to 12 minutes, until the edges turn golden brown. Allow the cookies to cool for two minutes on the baking sheets before removing. Transfer the cookies to wire racks to cool completely. Cookies may then be frosted if desired.
For the frosting:
Cream the shortening and the vanilla and 1 cup of the confectioners' sugar. Gradually add the milk and the rest of the sugar, beating constantly. More sugar can be added to provide the desired thickness. Food coloring can be added if you like. Spread the frosting on the cookies, and decorate with sprinkles if you like. Let the frosting set before storing.
Yield: 4 dozen cookies
http://www.oasisnewsfeatures.com/recipe/amish-cook-classic-worlds-b...