Somebody asked for my apple pie filling and I can't remember who??? I just came across it while keeping my computer up... Sisterbrenda
Well yesterday I was busy all day making apple pie filling. I couldn't believe how long it too to make and clean up. I've posted a step by step with my twist on the apple pie filling..
~~~~~~~~~~~~~~~~~~~~~~~~~~~~~~~~~~~~~~~~~~~
Here I cut the apple in half and used a melon ball er scooped out the seeds.
Next I peeled the apples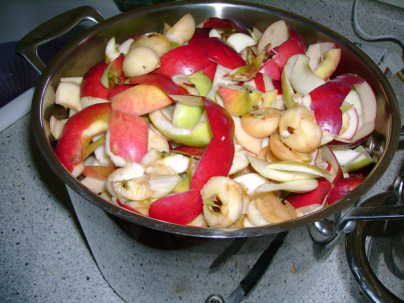 Then I sliced the apples up..
Got the jars lined up ready to fill
Now its time to fill the jars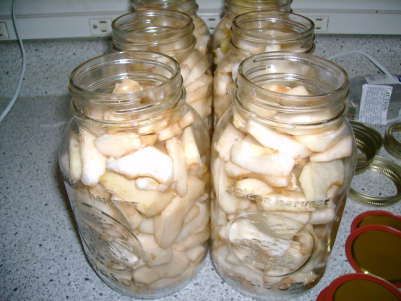 Now its time to put the filling in that has been boiling on the stove..
Boy this is hot filling here we come.. I suggest you leave an 1 inch of head space directions say 1/2 but that's not enough..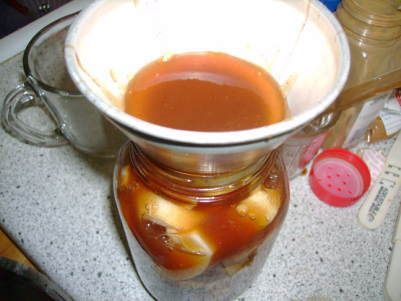 Her it is all done I did a double batch and made 14 quarts..
Recipe from Monica..site all recipes
Canned Apple pie filling..
4 1/2 cups white sugar
1 cup cornstarch
2 teaspoons ground cinnamon
1/4 teaspoon ground nutmeg
2 teaspoons salt
10 cups water
3 tablespoon lemon juice
2 drops yellow food coloring
6 pounds of apples
Directions
In a large pan,mix sugar,cornstarch,cinnamon,and nutmeg. Add salt and water and mix well. Bring to a boil and cook until thick and bubbly . Remove from heat and add lemon juice and food coloring..
2~sterilize canning jars,lids and rings by boiling them in a large pot of water.
3~peel,cor,and slice apples .Pack the slice apples into hot canning jars,leaving a 1/2 space NOTE

I used 1 inch I don't think 1/2 inch in enough..
4~fill jars with hot syrup, and gently remove air bubbles with a knife.
5~put lids on and process in a water bath canner for 20 minutes..
~~~~~~~~~~~~~~~~~~~~~~~~~~~~~~~~~~~~~~~~~
I would like to add I like to do tutorial because I'm a hands on gal.. I have a memory problem so this helps me if I need to go back and see what to do...
~~~~~~~~~~~~~~~~~~~~~~~~~~~~~~~~~~~
From my kitchen to yours..